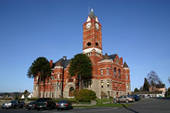 The Courthouse in Port Townsend

About John L. Scott Property Management
John L. Scott Property Management is an award-winning firm that offers industry-leading expertise in property management.
With over twenty-two years experience managing a variety properties throughout the Jefferson County, John L. Scott Property Management offers:
full-service and customized property management solutions
lease-up and marketing services
full-service asset management
sales
Susan Stenger - Property Manager
Susan has decades of experience in all phases of the real estate transaction and helps buyers, sellers, tenants & homeowners achieve their goals.

She has cultivated her business by staying up to date on the current real estate and rental markets. She focuses on the evolving goals of her clients and looks forward to assisting you with yours.

"Without hesitation, I chose to work with John L. Scott Real Estate in Port Townsend, consistently the number one office in Jefferson County." Susan

Susan enjoys spending time with family, swimming and snorkeling, traveling, reading and hiking.

You can reach her about property management at 360.379.4598.


---

Bobbie Nutter and Susan work together to bring the best of both their experience and knowledge to their clients. Bobbie is a licensed Washington State Real Estate Broker and a member of the National Association of Realtors. Bobbie's organizational skills and energy are even more reasons to entrust John L. Scott Property Management with your rental investments.